Scizo
My first Sonic fan character I thought up, mainly because I just wanted to have a girl that was hard. Here's the result. She can jump extremely far and high distances, and sometimes uses it as a means to travel. Her Dark form, however, is something that you might not want to come across. She suffers the worst of it, though... with her LRF.8 and SKA-2.2-CX she can get the job done her own way.
Scizo's LRF.8 and SKA-2.2-CX
Scizo's theme song.
Aidan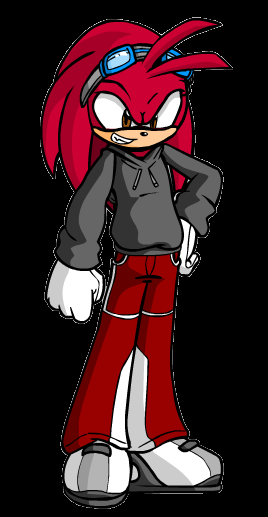 Boyfriend of Scizo, he likes to get out an about. Possessing superspeed, he's my only fan character than
does
have superspeed. There may be the odd time he'll boast, but he's a very social person.
Aidan's F-2000
Spearo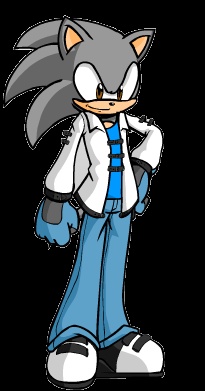 Brother of Slate, Spearo's a rather hyperactive person sometimes, but there's some times where he's completely normal. With a speargun for a weapon, some people tend to think of him as 'the equivalent of a spear' = you can make him think the wrong things sometimes.
Slate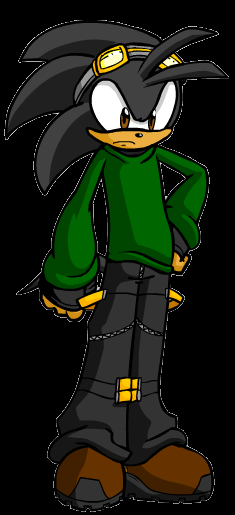 Slate is the more serious brother compared to Spearo, and the older one. He has the ability to see through walls, and possesses near superstrength than you would expect, but he can't beat Dante in an arm wrestle.
Miyo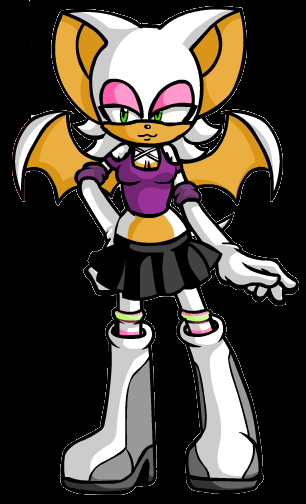 Miyo is a fairly soft person. She likes to talk about anything peaceful, but she is a pyromaniac - she can't help it. As long as you keep a rocket or grenade or any type of explosive out of her sight, she'll be a very talkative person.
Brego
Miyo and Amari's older brother, very serious yet protective over Miyo. He possesses two twin guns, Honor & Valor, along with his own custom sword - Cobra. He makes his own new sword every year. He may not possess energy capabilities, but he sure can handle and fight those who do.
Brego's Diabolus form
Atika
Atika's a rather serious girl, and if you bite, she bites back twice as hard. However, if you get on her good side she can prove to be a really likeable person.
Heather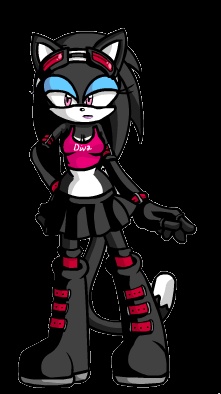 Heather is Atika's sister. She has better hearing, and can sometimes even sense danger. Although she and Atika do share quite a few similarities, Heather is slightly softer than Atika.
Ramsten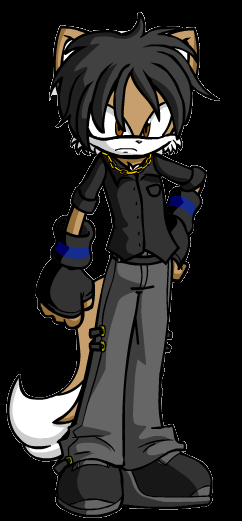 He fancies Atika, and possesses a guitar that emits deadly soundwaves. This inspired him once at a gig he had in a famous band he was once in, which is why some people recognize him. Since he fell in love with Atika, he wouldn't care about punching another girl.
Ramsten's guitar
Leviti
He's a bit of a quiet person, yet he can teleport. Possessing an XM8 Prototype, he likes to rush into action and do what he can do to his potential. It's not often you'll hear him talk, however.
Lenny
A rich boy, and likes to prove it. He thinks of people as lower-class, and usually thinks only his opinion matters. Still, with a powerful custom pistol of his he doesn't mind getting his hands dirty... morally. He likes to think of himself as a hitman at times.
Baltor
A very loud person, but quite protective over his friends. If you can befriend this fox, he'll act as your guardian. Armed with a variety of explosives tinkered with, and with a strange DNA mutation that's allowed him to become immune to explosives, he could go into an entire base with a crapload of bombs strapped to his back and still come out at the end in one piece.
Synthia
Synthia's gone through some harsh times, explaining why she's now got more of an attitude and is less friendly: The loss of Dante and her Dark form have caused this. She is a good puzzle solver, along with being quite smart.
Candelle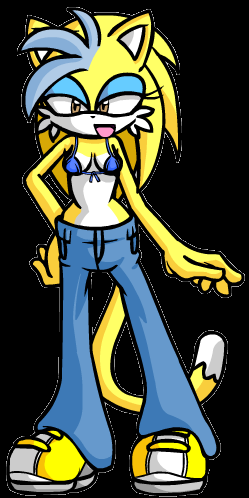 Synthia's sister. She's about two years younger than her and has a rather annoying attitude - she keeps talking and talking, her laugh is quite annoying and she's almost always flirting with any guy she sees.
Rorto
My most powerful character I have, and capable of apocalyptic scales of destruction. When he is angered, his rage burns almost unlimited, and kills almost anything he sees. The sad part for him is that he is bound to live as an immortal being, and even when he dies he returns 100 years later as if he was unconsious. He cannot join his dead family...
Nemi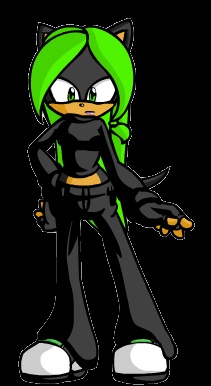 A shy and timid cyborg, although has some great telekinetic powers. She is starting to grow some telepathic skills, but usually she doesn't like being around others.
Amari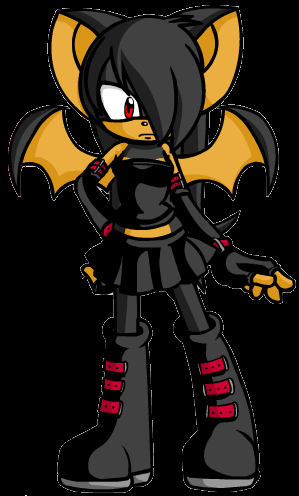 Brego's sister, yet she possesses energy some rather weak energy capabilities. She doesn't care for people she doesn't know or like, but she likes to make her friends and family feel good about themselves.
Tati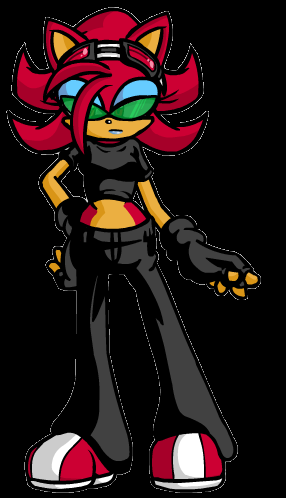 Tati is an assassin with a powerful sniper rifle (
image
) and her near-perfect accuracy, she is a very dangerous assassin. She is on contract by a secret employer who likes to remain anonymous, however...
Thing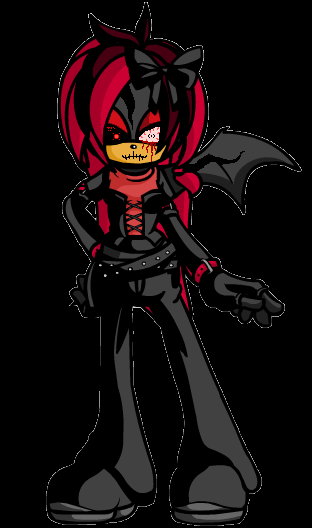 Thing is the most screwed up, insane and demented character I have ever made. Her diet consists of living things - preferably Mobians - and anything that satisfies her: Gushing with liquids, juicy and fresh. Many extermination teams and bounty hunters had been sent out to kill her, reportedly killed 18 times. However, there is a way to kill her... you just need to think like her. She's a mixture of a robot and a genetic experiment gone severely wrong.
-Updates-
- 26th August: Added Brego The Bat and a brief background on each character.
- 30th August: Added Scizo and Aidan's weapons.
- 31st August: Added Scizo and Dante's theme songs.
- 1st September: Added Heather and a brief background about her.
- 11th September: Added Lenny, and a brief background about him.
- 25th September: Added Nemi and a brief background about her.
- 1st October: Added Ramsten's guitar.
- 2nd October: Added Amari and a brief background about her.
26th/27th October: Redid some character's appearances.
- 30th October: Added Tati and a brief background about her.
- 6th November: Changed Brego and Amari's background information.
- 13th December: Changed Aidan, Amari and Baltor's appearance; added Hell Brego.
- 9th April: Added Candelle and a brief background about her.
Last edited by ... on Sun Jul 31, 2011 6:32 am; edited 15 times in total
High Member of the forums





Posts

: 1197


Join date

: 2010-08-25

Main Protagonist


Name:

:

Thing




Health

:


(0/0)


Age:: Unknown


High Member of the forums





Posts

: 1197


Join date

: 2010-08-25

Main Protagonist


Name:

:

Thing




Health

:


(0/0)


Age:: Unknown


High Member of the forums





Posts

: 1197


Join date

: 2010-08-25

Main Protagonist


Name:

:

Thing




Health

:


(0/0)


Age:: Unknown



---
Permissions in this forum:
You
cannot
reply to topics in this forum