Gabe's created a new prototype... one that he hopes to one day fully produce and create a vast and unstoppable (or so he hopes) army with. This... is D-0U1A, aka. ...
Codename: Tornado.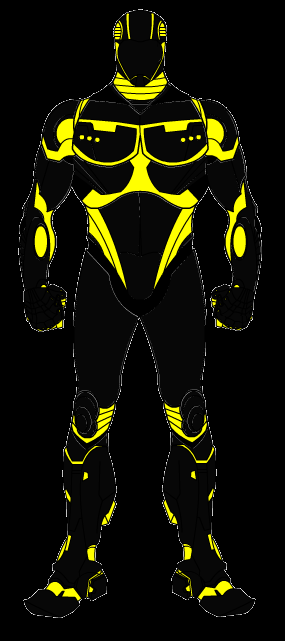 Tornado is capable of great feats. He is a pure machine that has no emotions. He is purely driven to kill, just like Fultron. He is able to wield a massive variety of weapons like Vlad and possesses great strength. Tornado is also capable of highly advanced hand to hand combat, which makes him more dangerous without weapons than with weapons. Don't think that an EMP will work, either...
He stands at 6'3", making him twice as tall as a regular Mobian but equally tall to Gabe and Rorto.
If Tornado hasn't been programmed or ordered to kill you, then you're not in any danger unless you provoke him. If you
are
on his list, you should be careful.
Tornado is mainly Torrok's rival. Whilst Torrok may be unmatched with his katana skills, Tornado may prove to be more than a match for him. Prozon is also Torrok's rival.
------------------------
The codename "Tornado" represents his force in the Doom Storm. Gabe is the Earthquake, Fultron-A
was
the Blizzard before he broke free from their grasp, Prozon is the Thunder & Lightning, and the rest of the army counts as the Tsunami.
High Member of the forums





Posts

: 1197


Join date

: 2010-08-25

Main Protagonist


Name:

:

Thing




Health

:


(0/0)


Age:: Unknown


High Member of the forums





Posts

: 1733


Join date

: 2010-09-03


Age

: 20


Location

: Day-dreaming in Mobius...

Main Protagonist


Name:

:

Sauron Revo




Health

:


(3250/3250)


Age:: Unknown



---
Permissions in this forum:
You
cannot
reply to topics in this forum